One problem with most QRP based vans is that there is no natural groundplane for radio aerials - easy on a car with metal roof but non-metallic GRP doesn't work. And BrianTheSnail suffers from this in spades. Additionally, despite being only 9 years old the van has radio technology much older - no aux-in, no Bluetooth, no USB, no MP3. What, me, such a technophile having a system so outdated - shame on me!
So pop into the local Halfords and the Sony MEX-N4300BT is a brand new model, has an excellent sub £100 price and all the features I think I want. One ordered and, what the heck, it's come in much cheaper than expected I'll pay the extra for them to fit - yes, I know it should be pretty much plug and play but somehow it never seems to work like that when I do it.

Oh, no DAB? I don't listen to the radio (I prefer CDs or will now stream from the phone) but Liz does. She didn't really have a requirement for DAB so we decided to save a few pennies and not bother. Until we spotted that Amazon has the tiny Pure Highway 200 DAB adapter down from £100 to £32. Now Pure is pretty much the leading brand in UK DAB so this ought be good - worth a punt at that price, surely?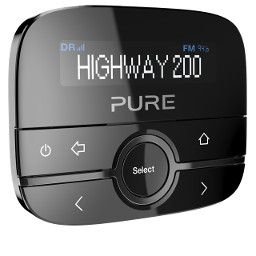 And it is impressive. Decent DAB and it will either connect to the radio with a line-in jack (which I'll do when the new Sony radio is fitted) or re-broadcast on FM (which is what I need in the interim). It is simple USB powered and comes with a 12v cigarette lighter USB plug which also has a 12v cigarette lighter socket on it so it doesn't take away your valuable 12v connection. But since I already have phone charging USB sockets in the cab I can simply use one of these. Yep, that works.

The interior windscreen sticky amplified aerial appears to work well on the drive but taking the van for a spin I'm suffering lots of dropouts. The Pure has a signal strength view option and I can see that the, apparently decent, on-drive signal is, in fact, only 20%. I need a better aerial!
Let's try the cheapest mag-mount 1/4 Amazon has to offer, £7.89! It's meant to be roof mounted but the van's roof is GRP, remember. So try the bonnet - signal strength 60-70%, that's better. But the bonnet isn't the most convenient place for even such a small 1/4λ antenna, so what about the door pillar with the antenna close to the GRP - hmm still 60% this might work *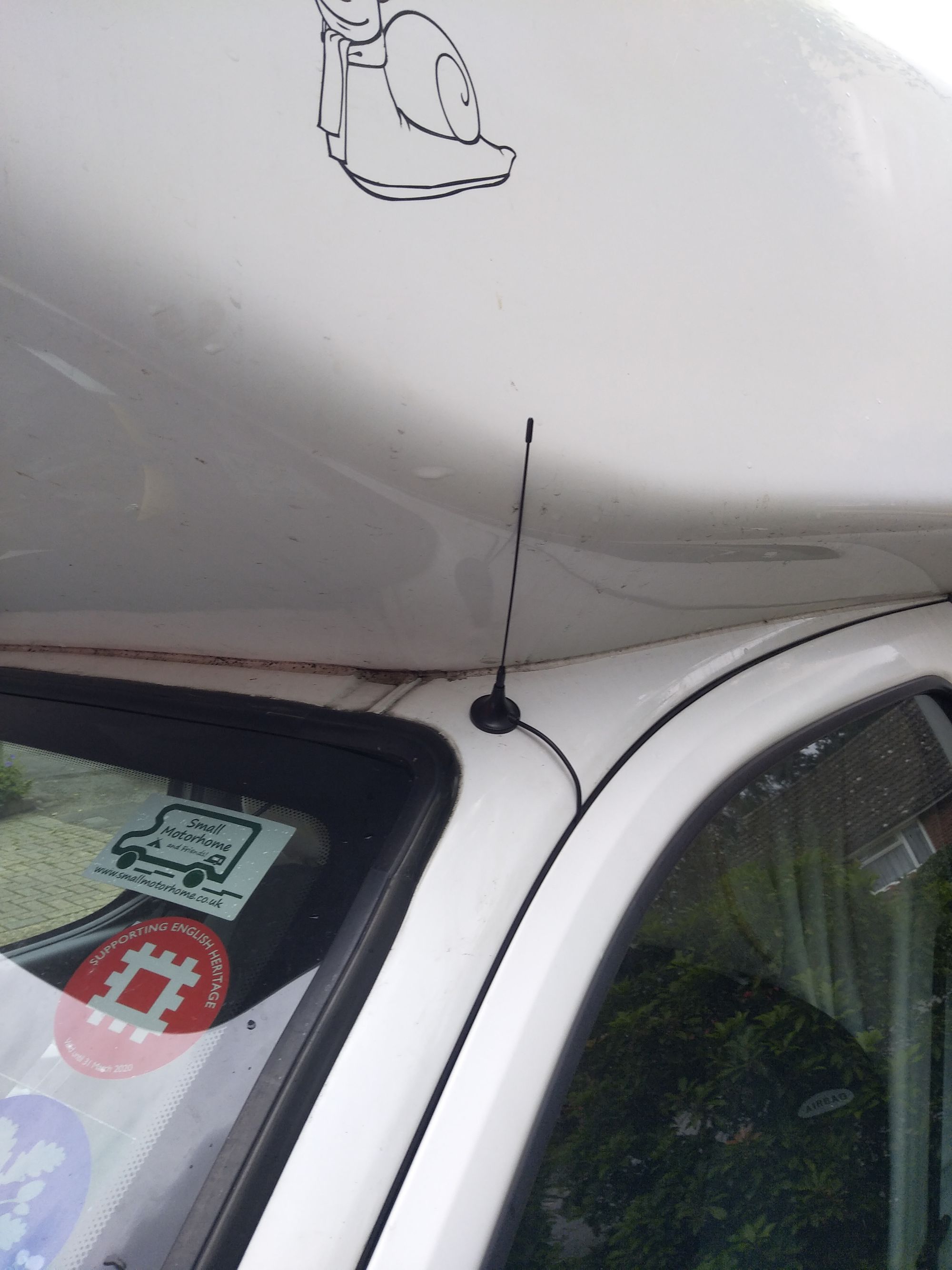 Now I can glue a little clip onto the edge of the luton to hold the top of the aerial tight against the GRP. This will, hopefully, deter vandals, make the antenna less prone (hopefully not at all) to the magmount blowing/shaking loose and also holding the antenna in place in the unlikely event that it does.

To be continued when the new Sony is fitted tomorrow and when the DAB radio and antenna have been given a test run or two.
*The dirty marks are from the my fingers covered with the muck from inside my door seals where I was trying to conceal the cable as it came into the van