In our quest to ever increase space in our R20 hi original (pre 2010) Pullman we have added to our stock of Really Useful boxes.
In the Luton we have 3 35l boxes, blue for him, pink for her and white for general. The personal ones hold raincoats, (fake isofill) down jackets, over-trousers, hats, day-sacs etc. The general one contains towels, tea-towels, swimming costumes, winter socks and hats plus odds like spare toilet rolls. These fit nicely in the Luton with enough room behind for our rotary airer and plenty of space to the side for bedding (squashed into large dry sacs). There's also enough clearance on top to store the table.
The white box is hidden behind the other two
One the loo we have always had two 12l Really Useful boxes which stack there nicely and used to hold our kitchen and tools but we found recently they are better purposed holding 2 pairs of shoes each.
The recent addition is 4 9l Really Useful boxes. One now holds spare kitchen bits and the other useful tools and things like batteries. The remaining two are full of spare food. These boxes stack nearly in the aisle when traveling but are a great fit, along with their 12l counterparts in filling the gap between pushed-forward driver and passenger seats. This serves two purposes, it gets them out of the way when lounging in the van and also makes a nice base to add cushions to extend the bed by 30cm when sleeping.
The driver's seat space is cramped because of the spare wheel but one 9l box edge-on will drop into the floor and two others will stack neatly atop despite being a tight fit. On the passenger's side, again an edge-on 9l box on the floor but this time there's enough space for two 12l boxes on top.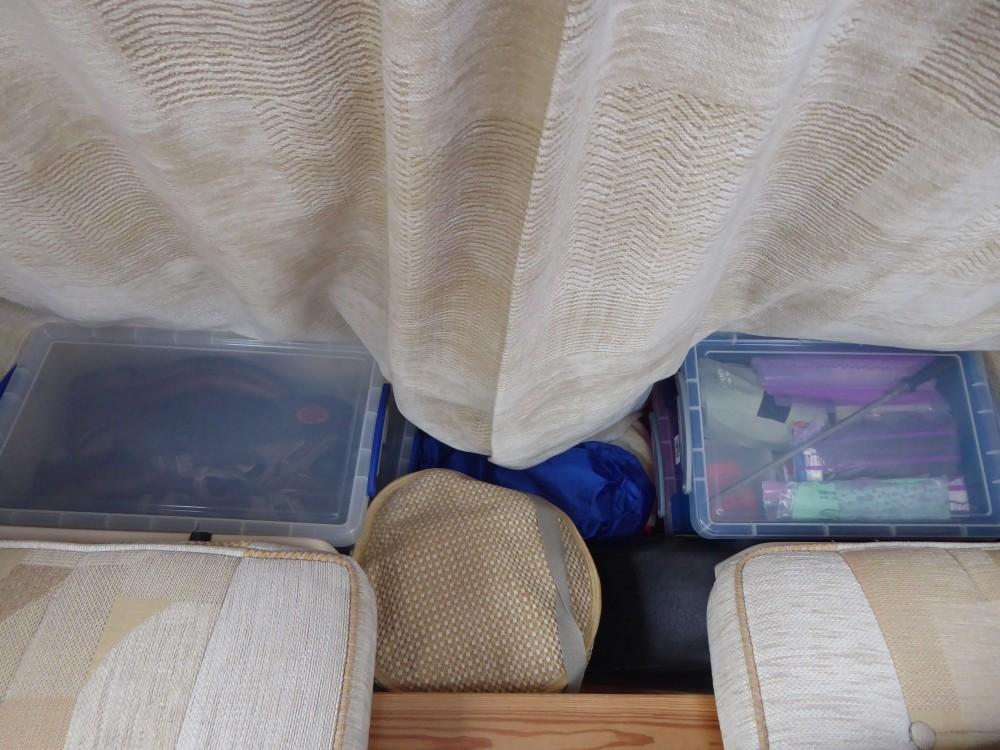 Also visible is the Mr D's cook pot in its insulated cover and you might just make out the blue which is two more small dry-sacs which contain our every day shoes (or Crocs when we are out walking).
This arrangement now means we have to store nothing on the front seats (unless we are dumping or coats or day-to-day sacs in a hurry) and that the lounge itself is completely uncluttered.
Slowly but surely we are increasing our space. We are carefully not to carry more and so increase weight. It's increasing comfort and ease of access to the things we need which are important to us.